Special Thanks to our Amazing Sponsors!!  They provide an HUGE value add to each event, class and league.  Please support our sponsors by purchasing their products and following their social media.
If your business is interested in becoming a Sponsor/Partner, please CLICK HERE for details.
Smackfest was established as the Anniversary party for Smack Sportswear (in 1995), the #1 Volleyball Brand amongst true athletes. Go on www.SmackSportwear.com and use code "Smackfest" for 20% off, or come by our showroom/store at 1302 Kingsdale Ave in Redondo.
---
Try Bud Light, as well as the Bud Light 'a-Ritas at all post parties.  In 2018 we also have Mich Ultra as a special.  BL/MU have been Smackfest's Presenting Sponsor for the last 20 years!!  These brands are on special at all Class, League, and Event post-parties. You can get a pitcher for $9 at Sharkeez, drafts for $3, and Ritas for $4.  We'll also have these specials at Tower 12 after Kickball.  Please show some loyalty to our top Sponsor when you are getting a cold one!!
---
Smack Sportswear was founded by volleyball players in 1994, on the sands of Manhattan Beach, CA  Since then they have focused on creating unique, high performance volleyball apparel to indoor and beach volleyball players. They are the one and only TRUE volleyball clothing brand! Use code SMACK20 for 20% off on www.SmackSportswear.com.
---
Sharkeez – Smackfest Events post party HQ – drink and food specials, great times, great people !!
---
Jagermeister –  Served as a shot, or special drink, Jager is on special at every Smackfest event, class, and league post parties. Try the Berlin Mule, or one of their other delicious drinks.  Jager is also the Official Shot of the NHL! 
---
Good Life Medical – Good Life integrates modern medicine along with Chiropractic care, physical therapy and massage therapy. 2 offices in Redondo, 1 in El Segundo.  They were voted the top Chiropractic office in the South Bay for the last 5 years.  Call and mention Smackfest for a FREE exam as well as discounted massages.
---
Delicious and healthy! The Original Wafer Creme Protein Energy Bar with irresistible crunch!
---
Harmless Harvest Coconut Water –
Our delicious, organic coconut water is clear when bottled, some of them turn pink when the antioxidants interact with light. It's natural, so we embrace it.  We use our pure, delicious coconut water in our new Harmless Coconut® Probiotics. 
---
Terranea Resort – Poised above coastal bluffs with sweeping views of the Pacific Ocean, Terranea Resort serves as the only luxury destination resort on the Los Angeles coast. Check the Smackfest site for a schedule of the fun trips we will make here in 2019, including the Pool Party After Dark and Hackfest Golf tourney in October
---
Electric Sky Wine – The first premium wine that's literally built for sharing. Pairs well with music.  ES is individually packaged in plastic containters and perfect for your cooler on the beach. A Gold Sponsor, ES is looking forward to gaining a BIG presence in the South Bay. Their Grigio, Rose, and Red will be on special at all post parties.
---
---
Soho Yoga – The hot spot in Hermosa !!
---
Soul Cycle – SoulCycle doesn't just change bodies, it changes lives.
---
The Deck and Uncorked – stop by and see them – craft beers, huge selection of wines, and great people !!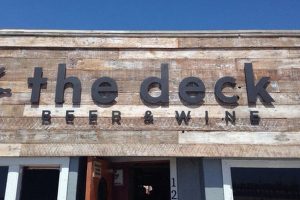 ---
Essence Alkaline Water – available at Whole Foods and many others.  Visit www.essencewaterinc.com for more info.
---
Pedones – thanks to Mike for always supporting Smackfest – stop by for the best pizza in town on Hermosa Ave.